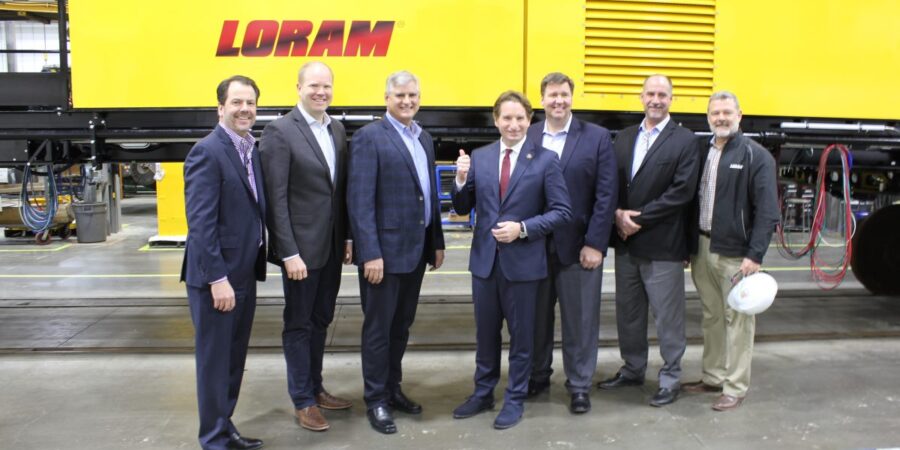 Loram Hosts Tour and Town Hall Session with U.S. Congressman Dean Phillips
Loram Maintenance of Way hosted U.S. Congressman Dean Phillips (D-MN-3) for a facility tour and town hall session on Wednesday, January 22.
During the visit, Congressman Phillips met with the Loram's senior leadership to hear about the railway industries legislative priorities followed by a town hall session with Loram's employees. The visit was then ended with a tour of the Loram's manufacturing facility.  "When he walked into the shop, his mouth dropped when he saw the big machinery," said Luke Olson, VP, Marketing & Sales. Loram's Manufacturing Facility produces numerous machines each year that are utilized on heavy haul freight railroads and transit-rail systems both in North America and globally. We are proud of what our shop can produce and enjoy the opportunity to show it off whenever we can.
Phillips' Third Congressional District of Minnesota is made up of 700,000 residents and 20,000 businesses large and small. He is focused on campaign finance, electoral and ethics reforms, and addressing healthcare costs, global climate change and our nation's gun violence epidemic.
Founded in 1954, Loram Maintenance of Way started out as a small operation consisting of two simple machines and a handful of employees. Today, Loram has become one of the leading suppliers of track maintenance machinery and services in North America and the global market. Loram provides maintenance of way services to Class I and short line railroads, transits, and commuter systems. Loram employs approximately 1,500 globally, with over 360 residing in Minnesota alone.