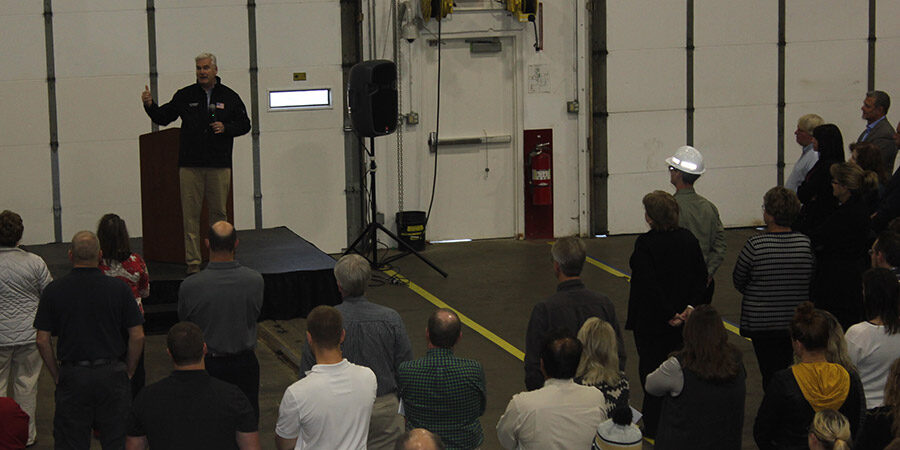 Loram Hosts Tour and Town Hall Session with Representative Tom Emmer
Loram Maintenance of Way hosted special guest, U.S. Representative Tom Emmer (R-MN-6) for a facility tour and town hall session on Tuesday, October 16.
Emmer resides in Delano, MN which is a short distance from the campus of Loram headquarters in Medina, MN. Emmer received Loram employees in the manufacturing shop bay where they exchanged conversation on the growing need for skilled laborers. He spoke about middle-skill occupations that require early development in programs such as apprenticeships and on-the-job training, but do not necessarily require a four-year college degree and the debt that consequently accompanies the diploma.
Emmer also addressed the question of trade issues with Canada and Mexico and remains positive that the new North American agreement with Mexico and Canada is the right move.
Founded in 1954, Loram Maintenance of Way started out as a small operation consisting of two simple machines, and a handful of employees. Today, Loram has become one of the leading suppliers of track maintenance machinery and services in North America and the global market. Loram provides maintenance of way services to Class I and short line railroads, transits, and commuter rails. They employ over 1,200 globally, with over 360 residing in Minnesota alone.
Leading Emmer on his tour was Loram President and CEO, Phil Homan. They were accompanied by Loram CFO, Brad Willems; Loram VP, Manufacturing and Supply Chain, David Badger; Loram VP, Human Resources, Susan Bobb; AREMA Committee Member and Loram VP, Marketing and Sales, Luke Olson; and AREMA Committee Member and Loram VP, Fleet Operations, Kevin Burton. Also in attendance were NRC Director, Marc Hackett; CARS Director, Scott Diercks; and LRW Committee Member, Barb Christensen.